Claim an Artist Profile on Multiple Digital Platforms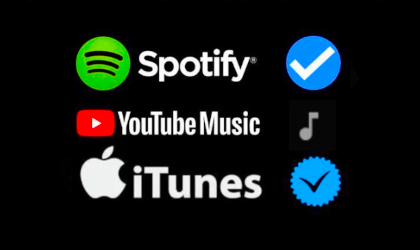 As everyone knows, to claim and verify your artist profile on the YouTube, TIDAL and Claro Música platforms, you need to contact your Distributor. If you haven't done so already, start distributing your music with ABACUOS and claim your artist profile with our help.
Claim the profile from the platform
How digital platforms are progressively supporting artists' autonomy. Most of them have already enabled their own apps, which allow users to claim and customize their artist profile on the platform.
Here are the digital platforms that offer the possibility to claim the artist's profile through their application:
Spotify
Apple Music
Amazon Music
Deezer
Anghami
SPOTIFY
In order to have your Spotify Artist Profile verified and manage it yourself, you will need to request access to Spotify For Artists. Once that's done, you'll have the blue check on your artist profile (the hallmark of profiles recognized by Spotify).
You'll find all the information you need to claim your artist profile at: artists.spotify.com.
How to request verification of an artist
To request access to Spotify for Artists simply fill out this form by following the steps below:
Indicate whether you have a Spotify user account (you must have one to manage an artist profile on the platform).
Log in with your user account.
Indicate your role (artist, manager, record label, etc.), your name, the Spotify user account you want to associate with the profile and an email to send the notifications.
Enter the name of the artist or band whose profile you want to claim and verify.
Finally, check the artist or band's Twitter account and provide links to their website or social media profiles.
Spotify will verify the information and then the blue checkmark will be added to your profile. This is what indicates that you are a verified artist by Spotify.
So Spotify For Artists will allow you to change your profile and background images whenever you want, create playlists and check statistics on how, how much and where your songs are being heard or who your listeners are, among many other interesting data.
In addition, you can sync your profile with Songkick to show your concert dates in your profile or with Merchbar to sell your merchandise with Spotify.
Read more about submitting your music for playlist consideration.
If a customer has no response from Spotify after a month, he has to contact them directly via: https://artists.spotify.com/contact.
How to Request a Verification from a Record Label
The old Spotify Analytics tool was closed and merged into the Spotify for artists platform. This free tool is now giving not only artists, but also record labels and distributors the data they need from Spotify, providing streaming statistics and helping them understand performance across their entire catalogue.
To request access to Spotify for artists such as a record label, simply follow the steps below:
Go to artists.spotify.com and log in with your Spotify account username and password. You will then confirm your work email address or provide if your Spotify account is associated with a different email address.
Search for your company or organization using the exact same label name you used when submitting your music through their platform.
If you are joining an existing company, Spotify may ask for some details about your role. If you're the first person on your team to request access to Spotify for artists, you may need to create your organization in your database. Enter the URIs for at least 3 albums or songs for which your label has the right to view data. If you have sub-labels or have used more than one distributor or licensor, select tracks that represent each of these combinations. You are able to provide more than 3 URIs if needed.
Hit submit and the Spotify support team will review your request. If they have all the information needed to give you access, you'll receive a confirmation email from labelsupport@spotify.com.
Note: If you manage multiple labels and require the content of all labels to be accessible through your analytics account, please contact labelsupport@spotify.com from the email address linked to your Spotify for artists account requesting that the labels be added. This process may take some time as it is a manual process.
APPLE MUSIC
This Apple Music tool offers artists access to analyzes and statistics of their songs and albums distributed on this platform. Find out how many plays and sales your catalog has, which radios have been included and how many times they've been played. In addition, artists will know where their main listeners come from, as well as their tendencies and habits when they listen to the catalogue.
How to claim a profile?
To claim an Apple Music profile for artists, the end user must do so via this link.
Any artist can log in with their Apple ID and fill out a form in which they will be asked to write the name of the profile they want to claim, select the albums associated with that profile and point out their role in the project (artist, manager or label manager) as well .
Apple Music will also ask you to fill in contact information as well as the label/distributor and manager information and link it to at least one of the artist's verified Facebook or Twitter profiles. Apple Music for Artists will verify all information and identity before giving access to the platform.
AMAZON MUSIC
Amazon has now launched its app for artists. The new Amazon Music app for artists provides the tools every artist needs to grow, engage and monetize their fans on Amazon Music.
How do I get access?
First, go to the Apple App or Google Play Store and install the Amazon Music artist app. Once the app is open, you will be directed to sign in using an Amazon retail account. If you don't have an Amazon retail account, you'll need to create one to continue going through the artist signup and claim flow.
To add an artist to your account:
Click the "Claim an Artist" button at the bottom of the search screen. Search and select the artist you represent.
Press "Take Me There": Verify your relationship to this artist by providing Amazon with your role and company information. Authenticating with your artist's social media accounts helps them speed up the approval process.
Press "Submit" when all information has been completed. Once claims have been verified/approved on our end, you will receive an email confirmation that artist access has been activated on your account.
DEEZER
Deezer Backstage allows not only distributors but also artists, labels and managers to update their artist pages with profile picture, bio and links to social media or website, as well as access their analytics.
To do so, simply access https://backstage.deezer.com/ and request access according to your role, Artist, record label, Provider and manager.
ANGHAMI
Angami artists Connect allows not only distributors, but also artists, labels and managers to update their artist pages with profile pictures, bios and links to social media or website, as well as access their analytics.
After logging into your Dashboard account, click on "My Artist Profile".
From this page you can edit the following:
Update artist profile picture (upload a new image or link to your Facebook profile picture)
Update your artist name in English and Arabic
Edit your musical language
Add a biography in English/Arabic
Link your Facebook page
Link your Twitter account
After making any changes or additions, be sure to click Update Profile when done.